Short Stories on Podcasts:
Some of my short stories are available as podcasts:

"A Flicker of Torchlight" – gay elf erotica, listen at the Nobilis Erotica podcast

"Cat Scratch Fever" – furry, cat-like alien erotica I wrote back in 1991, listen at the Nobilis Erotica podcast

"Man Enough," "Her Lover is a Flame," and "Omega Man" – I read all three stories live at Balticon, captured on the Nobilis Erotica podcast.
Audiobooks
Bunches of my books are available as audiobooks from various companies.
Mind Games
Audio of Mind Games is available via Scribd! Narrated by Freya Copeland.
Listen to a free chapter on the Nobilis Erotica podcast.
Struck by Lightning
My entry into the "BDSM billionaire" erotic romance genre. Heterosexual.

SLOW SURRENDER, Book One of the Struck by Lightning Series, is in audio from Tantor Media. Listen to a sample chapter free at the Nobilis Erotica podcast! It can also be purchased from Barnes & Noble.com, Amazon, and other places audiobooks are sold. Running time: 7 hours and 59 minutes, narrated by Lucy Rivers.

Book 2 in the Struck by Lightning Series, Slow Seduction, was released in audio by Tantor Media on January 28, 2014, same day as the ebook and paperback. You can get it from Tantor Media here: https://www.tantor.com/BookDetail.asp?Product=B1727_SlowSeduction, Audible.com
, and other places like iTunes. It's also narrated by Lucy Rivers.
Book 3 in the series, Slow Satisfaction, hasn't been announced yet for audio, but I hope it'll be produced also. The paperback and ebooks of Slow Satisfaction are slated for release on August 26, 2014.
Daron's Guitar Chronicles
My ongoing chronicle of a gay guitarist coming out and coming of age in the 1980s.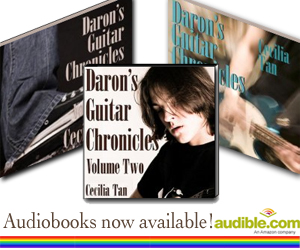 There are three audiobooks which correspond to the first three ebook volumes in Daron's Guitar Chronicles available for sale from Audible.com. Download them in your favorite audio format. Narrated by actor Teddy Hamilton. To download, visit the DGC Audible page.
• Volume One Audio — Four hours and 20 minutes, narrated by actor Teddy Hamilton, corresponds to ebook volume one, covering chapters 1-40.
• Volume Two Audio — Nine hours and 34 minutes! The first summer with Ziggy…
• Volume Three Audio — Seven hours and 53 minutes. Runs up to chapter 200.
The Prince's Boy
My gay swashbuckling BDSM erotic high fantasy serial romance. (Yeah, it's all those things.)


There are two Prince's Boy audiobooks available from Audible.com, corresponding to the two volumes of the series. Both are narrated by Roman M. Wagner and run over 10 hours each. According to Audible, The Prince's Boy is my best-selling audio title! Interesting, no? Find both on the Prince's Boy page on Audible or on Amazon: The Prince's Boy: Volume 1
, The Prince's Boy: Volume Two
The Velderet
My BDSM erotic space opera.
The audiobook was narrated and produced by Nobilis Reed of the Nobilis Erotica podcast and runs over 5.5 hours. There's a sample chapter up for listening at the podcast and an interview with me: HERE.
You can download The Velderet audiobook directly from Audible.com or from Amazon
Other Audio Stuff
Entwined Erotica: mine is one of four "entwined" erotic romance novellas. Mine is Dear Girl, which can be purchased separately, I think.
The Little Mermaid — my erotic retelling of the classic fairytale. This story appeared in the book Aqua Erotica, edited by Mary Anne Mohanraj.
Voyeur Eyes Only — I have one story in this anthology of seven erotic tales all set in the same Las Vegas hotel, each featuring a voyeuristic act.