Daron's Guitar Chronicles has an entire website devoted to it exclusively at https://daron.ceciliatan.com, but here's the basics about the series and the web serial!


DGC is consumable in various formats!
* Read the web serial completely free on the DGC site (or Wattpad)
* Ebook compilations
* Paperback omnibus volumes
* Audiobook MP3s
Scroll on down to see them all.
---
Ebooks!
Ebooks are available as PDF, ePub, or Mobi (Kindle) files. Prices listed are suggested: you can name your own price! Yes, it's really OK to pay what you can, even if that's only 99 cents. These ebooks sell on Amazon & elsewhere for $5.99 each.
Volume 1
For other ebook formats, DGC V1 can also be purchased from Smashwords (epub, mobi, HTML, etc.) or from the Amazon Kindle Store
[Tip: Volume One is often offered free on the Kindle, iTunes/Ibooks, Nook, Kobo, and Smashwords stores!]
In June 2011 DGC Volume 1 was #3 on the Amazon Kindle Gay & Lesbian Fiction bestseller list! (free version)
You might also enjoy this Youtube Playlist which gives you all the songs used in Volume One as chapter titles, in order! Happy reading/listening!
Volume 2
You can also get the volume two ebook from the Amazon Kindle Store
or from Smashwords (.mobi, .epub, .LRF, .pdb, and other formats).
---
Volume 3
Download the PDF below, or buy one of the other formats from one of the other online retail sites. Click here for the Kindle Store
, or get ePub, mobi, LRF, or other formats from Smashwords.
Volume 4
Buy the ebook of Volume 4 from Amazon Kindle Store
, or Smashwords (epub, mobi, pdf), or make a donation as instructed below to get a download of your choice of PDF, epub, or mobi direct from me with a download link.
Volume 5
Buy the ebook of Volume 5 from the Amazon Kindle Store
, or Smashwords (epub, mobi, pdf).
Volume 6
(Book 6 also available for sale on Amazon
or Smashwords.
Paperback Omnibuses!
Two huge omnibus paperbacks were produced through Kickstarter efforts.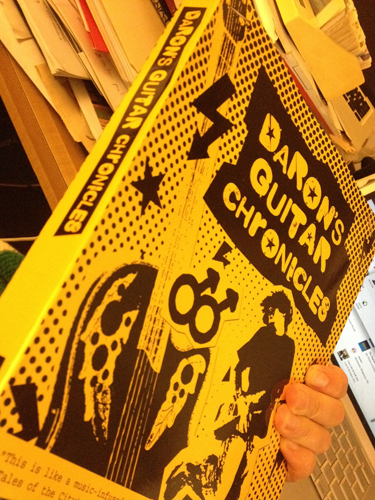 Omnibus Volume 1 compiles chapters 1 through 201 and is $19.95 plus shipping! Volume 1 is 312 pages, 8.5×11″ in size, and includes two bonus pages of "scrapbook" news clippings about the band not seen on the website!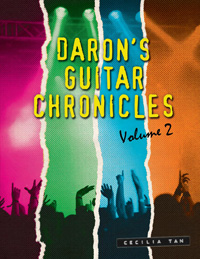 Omnibus Volume 2 compiles chapters 206 through 388 and is $24.95 plus shipping. It's 370 pages and also includes Remo's Story, Jonathan's Story, three full pages of "scrapbook" news clippings, and two pages of timeline graphics!
CREATESPACE
This is the place I get the best royalty from:
Order Volume One
Order Volume Two
AMAZON
You can also purchase the books from Amazon.com where the books are eligible for SuperSaver shipping (i.e. combine it with other orders to get free shipping), and are eligible for Amazon Prime by clicking here: Daron's Guitar Chronicles: Omnibus 1
or get Daron's Guitar Chronicles: Omnibus 2

If you're an Amazon customer, go for it!
Bookstores
Right now the books should be available through most bookstores in the USA/Canada by special order. You should be able to walk into most stores and give the ISBN of 978-061569759-8 for Volume 1 or 978-1503096059 for Volume 2. If you do that and they say they can't find it, please let me know!
Ordering books from me
If you want books autographed or personalized, you can order it from me directly using the shopping cart buttons below if you're in the USA. Just be sure to email me a follow up (at ctan.writer at gmail) to make sure I got the notification and to find out when I will ship it. I don't have a big operation here and so Createspace is faster and more reliable than I am. But if you want a gift personalized, etc. just please do follow up with me and give me at least two weeks to get it into the mail. (I'm often on the road.)
If you're not in the USA, you'll also need to email me to get a shipping quote on what it will cost to get these big books over to you. They each weigh over two pounds, which is a significant cost to ship from the USA to most other places.

Audiobooks!
Three audiobooks which correspond to the first three ebook volumes are now available for sale from Audible.com! Download them in your favorite audio format. Narrated by actor Teddy Hamilton. To download, visit the DGC Audible page.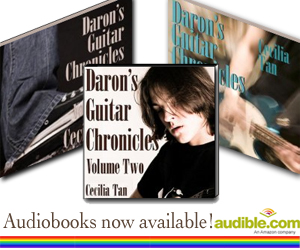 I can't sell the audiobook downloads directly, so you have to get them from Audible.com. Audible, like Amazon, takes customer reviews, so if you enjoyed them, please let people know!
• Volume One Audio — Four hours and 20 minutes, narrated by actor Teddy Hamilton, corresponds to ebook volume one, covering chapters 1-40.
• Volume Two Audio — Nine hours and 34 minutes! The first summer with Ziggy…
• Volume Three Audio — Seven hours and 53 minutes. Runs up to chapter 200.
---